Great Barrier Reef Coral Spawning Evening Trip - 2nd Dec 2023
Seize the opportunity to witness the remarkable annual coral spawning phenomenon on the beautiful Great Barrier Reef during Tusa Reef Tour's premium evening tour.
Annually, in the wake of a full moon during the late spring or early summer, nature orchestrates an awe-inspiring spectacle where every coral on the reef partakes in synchronized reproduction.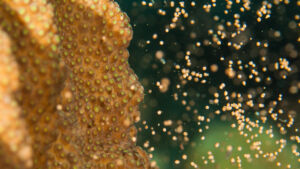 Prepare to be captivated by the intricacies of coral reproduction, a majestic spectacle beyond compare. Millions of minuscule cells burst forth from the coral, reminiscent of effervescent champagne bubbles. This dramatic event, lasting only a couple of nights, heralds the arrival of infant corals as they find their place upon the reef to flourish and thrive.
Embark on a night-time coral spawning expedition that promises to be memories you will hold onto for a lifetime. Tusa Reef Tours offers specialized Great Barrier Reef coral spawning night trips departing from Cairns, catering to both divers and snorkelers, where you can witness this extraordinary natural phenomenon before returning to Cairns.
Limited to a maximum of just 40 guests, our evening trip offers the highest level of service, with the lowest guest-to-crew ratios of any Great Barrier Reef tours from Cairns. From the moment your step aboard, our highly trained and knowledgeable crew and marine guides will be on hand to ensure an exceptional evening on the Great Barrier Reef. Your journey to the outer reef will be a short 90-minute voyage, during which you'll enjoy a full briefing from our Marine Guides on the activities for the evening.
Whether you are a seasoned diver or a beginner snorkeller, our guides will be there to assist you every step of the way. They will point out the best spots to explore and help you identify the vibrant coral and marine life that surrounds you. You will also be provided with unique waterproof bone-conduction underwater headsets that have special Coral Spawning commentary for the evening.
After your snorkelling or diving experiences, fuel up with a delicious dinner prepared with local ingredients and local beers and wines to savour on the journey back from the reef. Throughout the evening, our marine guides will share their extensive knowledge about the Great Barrier Reef ecosystem, and our Master Reef Guide will share a unique Coral Spawning presentation.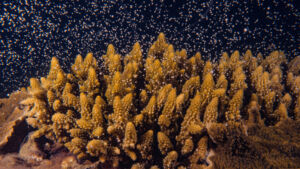 Please note: Tusa Reef Tours trips are restricted exclusively to people aged 12 and over, ensuring an optimal experience for all our guests. For our Coral Spawning trips, only Certified Diving and Snorkelling will be available. Introductory Diving will not be offered.
Come aboard and embark on an unforgettable adventure where nature's beauty unfolds, and the wonders of the underwater world come to life.
Per Person (AUD$)
Free Cancellation
up to 5pm the day prior
Best Price Guarantee
Get the best price by booking direct with us
See what sets us apart from the other Cairns Coral Spawning tour providers.
"Exceeded expectations! The snorkeling was amazing. So much to see. The giant clams blew my mind. The boat is clean, modern, and comfortable, with good loaner equipment (mask, snorkel, fins, etc.), and a light and delicious lunch buffet served between the two dives. But perhaps most importantly, the crew and management are skilled and highly professional.Thanks Tusa! Highly recommended." (Google Review: August 2022)
5.00 pm – Start the evening with ease with our complimentary hotel transfers and check-in at C Finger, Cairns Marina.
5:30 pm – We'll set sail to the Outer Reef, during which you'll be treated to captivating commentary and reef information, including dive locations, interactive maps and visuals, dive site briefings for Scuba Divers. Plus, learn about the history of Great Barrier Reef and its Indigenous importance, and get insider tips on what to look out for from our resident Marine Biologist.
7:00 pm – Once we arrive at Outer Reef Site #1, the real adventure begins! Take part in a snorkelling or dive session and see the Coral Spawning withyour own eyes.
8.00 pm – After towelling off, refuel with premium teas and coffee served on board.
8.30pm – It's time to jump back in the water for the second dive session for the evening.
9.30 pm – Enjoy a delicious dinner in the main deck area, or take advantage of one of the many open deck areas and enjoy your meal al fresco under the stars. Check out our cuisine page for more info. While you dine, we will begin the journey back to Cairns.
11.00 pm – Back to the Cairns Marina, and we commence complimentary hotel drop-offs. Our crew will bid you farewell, but the magic of the Great Barrier Reef will stay with you forever.
Safety & Medical Information
It is vital that all individuals engaging in introductory scuba diving are in good physical and mental health. Some medical conditions can pose a hazard during diving, and it is recommended that individuals with these conditions undergo evaluation by a physician. Visit our Can I Dive? page for more information.
Best Price & Easy Cancellations
Book with confidence knowing you will always pay the best price booking direct and be free to cancel or amend your booking anytime.
Prices are shown in Australian dollars and includes all equipment and tuition.
Prices valid to 31st March 2024. Price is per person and inclusive of GST and all fees, including the GBRMPA environmental management charge (EMC) which contributes directly to the management of the Marine Park.
Per Person (AUD$)
Departure Date
2nd December 2023