Experience the ultimate Great Barrier Reef dive adventure with Tusa Reef Tours and discover the breathtaking beauty of the outer reef on this exclusive, all-inclusive scuba diving day tour from Cairns.
Your day begins with a delicious breakfast before starting the high speed journey from the Cairns Marlin Marina to the edge of the continental shelf on board our modern catamaran. Enjoy the spacious and air-conditioned lounge or explore one of our sun decks as we make our way out to the Outer Great Barrier Reef, and the first of two stunning locations for the day.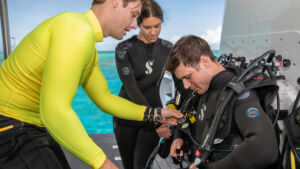 Scuba Dive Cairns – The Ultimate Great Barrier Reef Experience
Limited to just 40 guests to maximise your comfort, our purpose-built dive vessel is fitted to the highest standards and equipped with the latest in modern and sustainable dive gear.
Your crew of 9 includes 8 knowledgeable marine guides and dive instructors who are readily available to see to your needs throughout the day and to help you plan your dives and activities at each of the two sites you'll visit.
You will be awestruck by the vibrant coral gardens, reef walls and abundance of marine life at our dive sites, with plenty of options to excite the most experienced divers as well as easily navigable routes for those new to the sport.

Our open dive deck policy allows you to plan the dives of your choice, with up to three dives available over the day. Dive with your buddy or be guided by one of our highly experienced PADI instructors, considered amongst the best in Australia for their local knowledge and passion for the reef.
If you're interested in becoming dive certified and seeing the world beneath the waves, Tusa offers a range of dive courses including Open Water and Advanced Open Water.
Not a certified diver? We also offer Introductory Scuba Diving, for those looking to experience the thrill of breathing underwater without a certification. For non-divers, we recommend you start with our Can I Dive? page to familiarise yourself with the medical and general safety requirements.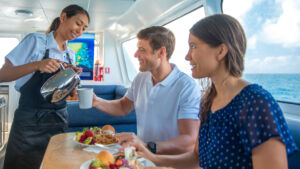 A Taste of Local Flavours
Enjoy sumptuous local cuisine throughout the day as part of your all-inclusive package. Prepared by our in-house chefs using fresh local ingredients, each meal is served with a selection of refreshing beverages including complimentary juices, tea, coffee, local wines from Hidden Seas, and local beer from Barrier Reef Brewing. (
Please note, consumption of any alcohol will prevent further in-water activities.)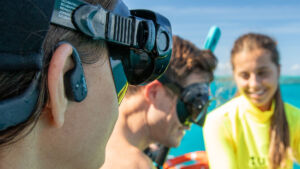 Sights & Sounds
To complement your experience, enjoy a guided snorkel tour with exclusive bone-conducting headphones for a unique underwater English commentary as you explore the crystal clear waters. Gaze below the surface as we take you on a journey of discovery across the reef.
Guests also have access to our exclusive and interactive marine guide tablets – use these to learn more about the reef and help to contribute to the vital research we conduct as part of each and every cruise.
Please note: Tusa Reef Tours trips are restricted exclusively to people aged 12 and over, ensuring an optimal experience for all our guests.
'We have been with the Tusa Reef Tours for three days with our family. In one word it was fantastic! The crew: captain, hostess and the dive guides were so friendly and helpful. Nia dived with us and was so patient with our kids, they have gained so much confidence because of her. The dive sites are breathtaking and the boat is equipped with every luxury. We had three great days!' (Google Review: August 2023)
7.30 am – Begin your morning with ease – take advantage of our complimentary hotel transfers and check-in at C Finger, Cairns Marina.
8:00 am – Time to indulge in a delicious breakfast with invigorating local coffees served on board. After you're fuelled up, we'll set sail to the Outer Reef, during which you'll be treated to captivating commentary and reef information, including dive locations, interactive maps and visuals, dive site briefings for Scuba Divers. Plus, learn about the history of GBR and its Indigenous importance, and get insider tips on what to look out for from our resident Marine Biologist.
9:30 am – Once we arrive at Outer Reef Site #1, the real adventure begins! Certified Scuba Divers can take two short 40-minute dives or one long 60-minute dive, unguided. Certified Divers can also take guided dives scheduled for two sessions of 40 minutes each. Those new to scuba diving can experience an introductory dive with a PADI Instructor, while others can take part in two guided snorkelling sessions. After towelling off, refuel with morning tea served on board. Then it's time to jump back in the water for the second dive session for the day.
12.30 pm – Enjoy a delicious lunch in the main deck area, or take advantage of one of the many open deck areas and enjoy your meal al fresco. Check out our cuisine page for more info. While you dine, the captain will move the vessel to our second exclusive dive site.
1 pm – Dive back into the action when the dive deck opens for the third and final session.
2.30 pm – As the day winds down, it's time to say goodbye to the beautiful Reef and head back to Cairns. Enjoy drinks and a cheese platter while getting more information about the fish and reef bios and access to GBRMPA's 'Eye on the Reef' app to contribute your sightings. Plus, don't forget to jump in a group photo or two to commemorate your incredible day.
4.00 pm – Back to the Cairns Marina, and we commence complimentary hotel drop-offs.
See what sets us apart from the other Scuba Diving Cairns tour operators.
Wetsuits – ScubaPro Everflex 5/4 is constructed from eco-friendly Yulex plant-based form and solvent free glue. The polyester lining is made from recycled plastic bottles.
BCDs – Scubapro Level, the perfect option the most demanding recreational divers.The bladder, made of EndurTex high-tenacity 420 nylon fabric, its is lightweight yet extremely rugged.
Regulators & Computers – Scubapro MK2 EVO/R105 regulators paired with R105 Occy & 2-G Cons Aladin One MX PG Bar computers are used onboard.
Masks, Fins and Boots – We cater for a wide variety of face sizes and shapes with Scubapro Zoom Evo Masks with Spectra Snorkels. Prescription masks are also available. Scubapro open heel Go Fin Sport with Delta 3mm Short boots are used onboard.
Best Price & Easy Cancellations
Book with confidence knowing you will always pay the best price booking direct and be free to cancel or amend your booking anytime.
Safety & Medical Information
It is vital that all individuals engaging in scuba diving are in good physical and mental health. Some medical conditions can pose a hazard during diving, and it is recommended that individuals with these conditions undergo evaluation by a physician. Visit our Can I Dive? page for more information.
Prices are shown in Australian dollars and includes all equipment and tuition.
Prices valid to 31st March 2024. Price is per person and inclusive of GST and all fees, including the GBRMPA environmental management charge (EMC) which contributes directly to the management of the Marine Park.
Per Person (AUD$)
Book with confidence
Easy cancellation up to 24hrs before departure
Best Price Guarantee
Get the best price by booking direct with us