Tusa Reef Tours takes you to some of the most captivating dive sites and snorkel locations in Cairns. With both Tusa exclusive moorings and beautiful shared moorings, we've got it all covered for Cairns Dive Sites! Our team will carefully select two locations each day to make sure you see the best vibrant marine life, mesmerizing coral formations, and diverse underwater environments based on the day's weather conditions. Get ready to be amazed by the best snorkel and dive experiences the Great Barrier Reef has to offer. Come dive into the world beneath the waves with Tusa!
If you're looking for a serene location to appreciate a diverse array of soft and hard corals, Pretty Patches is an excellent option. While you navigate the tranquil waters of the reef, be sure to keep an eye out for the impressive Staghorn Corals, colorful Sea Fans, unique Spaghetti Corals, voluminous Leather Mushroom Corals, and the visually stunning Brain Corals that are constantly expanding.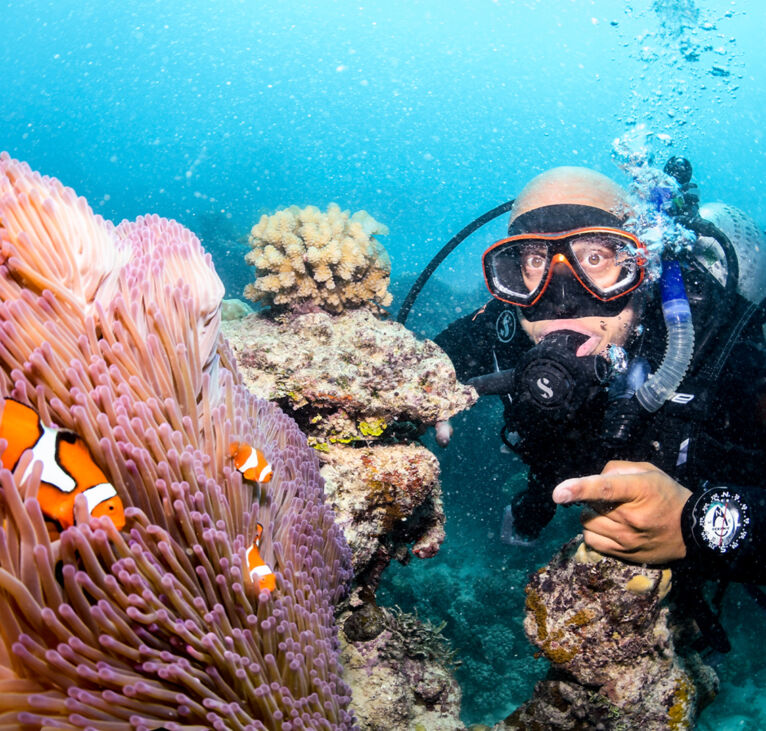 Pretty Patches 1, 2 and 3
Pretty Patches Reef is a lesser-known snorkel and dive location in the Great Barrier Reef, home to flourishing underwater forests that span across three separate 'patches'. Located between Arlington Reef and Michaelmas Cay, Tusa is one of only two companies with a permit to access this reef, Pretty Patches and the surrounding reefs contain breathtaking shallow lagoons where some of the highest marine diversity in the world can be found.
At Michaelmas Reef, divers can take pleasure in exploring stunning coral gardens and tranquil waters that are ideal for both snorkelling and diving. The secure haven provides a sheltered sandy lagoon that is protected from the wind in any weather, and the coral gardens are conveniently within reach.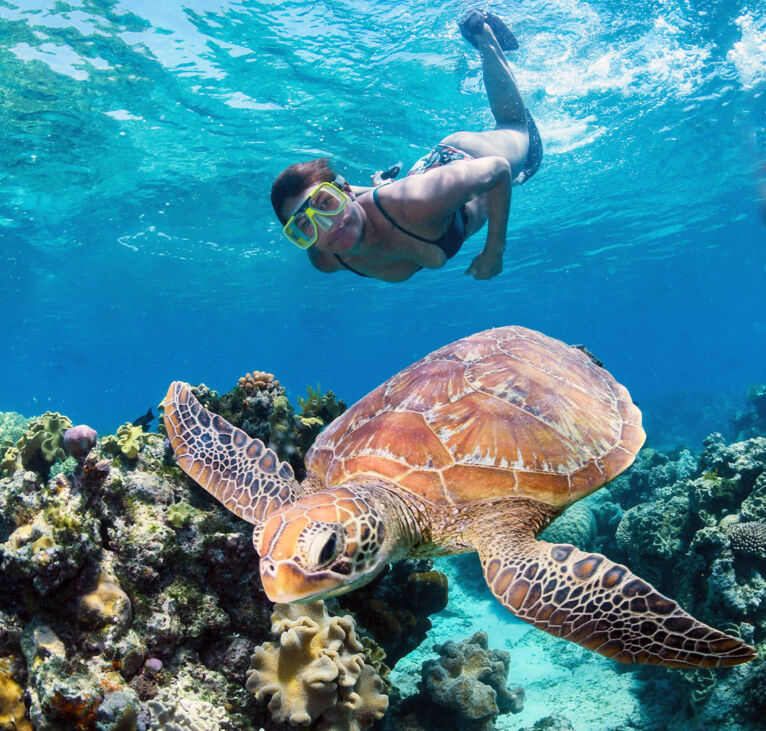 Banana Bommie
A well-protected patch of coral sits behind a large sand cay. Turtles are a common sight along with large schools of grazing parrot and surgeonfish. Banana Bommie is also a good place to see reef sharks and even manta rays.
Experience the wonder and majesty of Hastings Reef, a stunning Great Barrier Reef location that promises a memorable experience for snorkellers and divers of all levels. Immerse yourself in the shallow reefs and be amazed by the vibrant corals, schools of fish, clams, and even the occasional turtle or Manta Ray.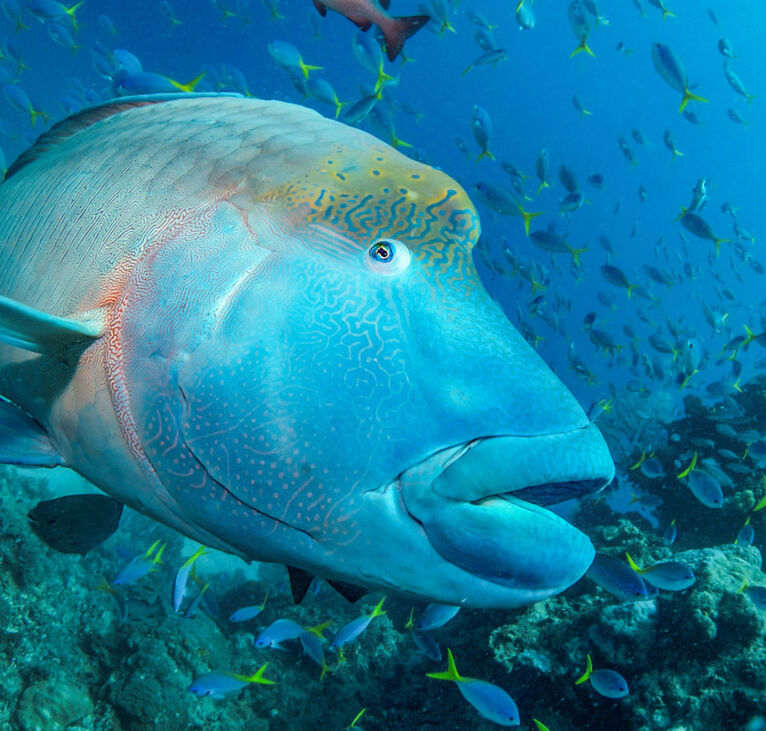 The Fish Bowl
A popular site for snorkellers and divers alike. A circular wall of coral encloses an area with a multitude of fish life - lots of colourful damsels, anemones & clownfish, yellow-tailed fusiliers, spangled emperor, and the famous resident Wally (the Māori wrasse), the beds of giant clams and forests of colourful corals with staghorns in the shallows. Dolphins and Manta Rays are among the occasional visitors at the Fish Bowl.
Located near the Cairns coast and the renowned Green Island, Thetford Reef is a vibrant two-kilometre stretch of coral and marine life. The reef boasts scattered coral heads and sandy areas that attract sparkling schools of sea creatures, as well as numerous swim-throughs for thrill-seekers. Among the large gorgonian fans and soft corals, you can spot butterflyfish, rabbitfish, damsels, angelfish, pipefish, and giant clams.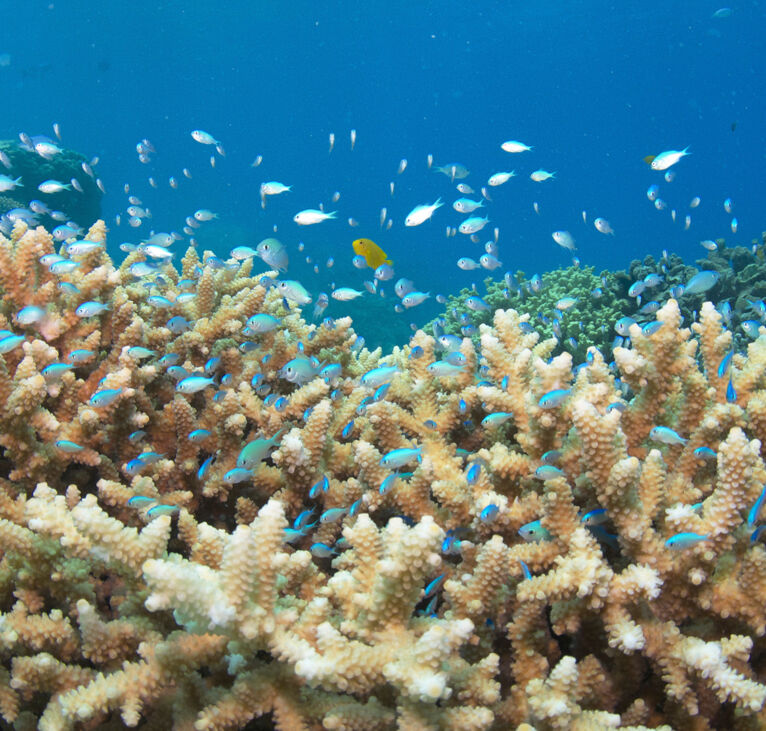 Dog's Bommie
A large bommie that can be circumnavigated during a dive. Schools of bright fusiliers gather in the open and tiny blue-green damsels dart for cover across the top of the reef.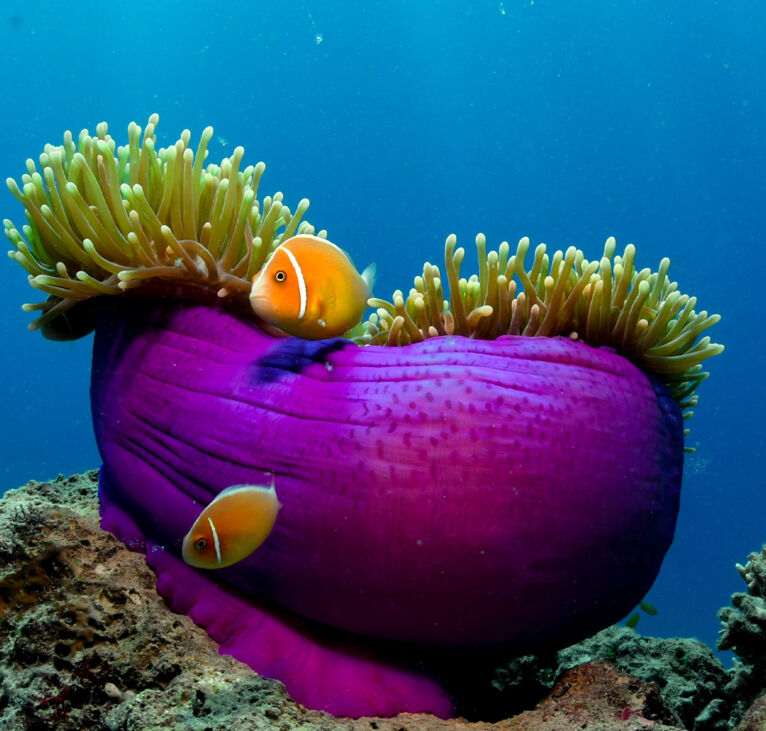 Horseshoe
A maze of five coral outcrops (bommies) scattered in a horseshoe shape gives this dive site its name and provides some interesting swim-throughs and chasms with gorgonian fans for divers. Different varieties of clownfish are scattered across the top of the reef, protected by their host anemone. Expect to see schools of giant trevally & sweetlips plus friendly Māori Wrasse.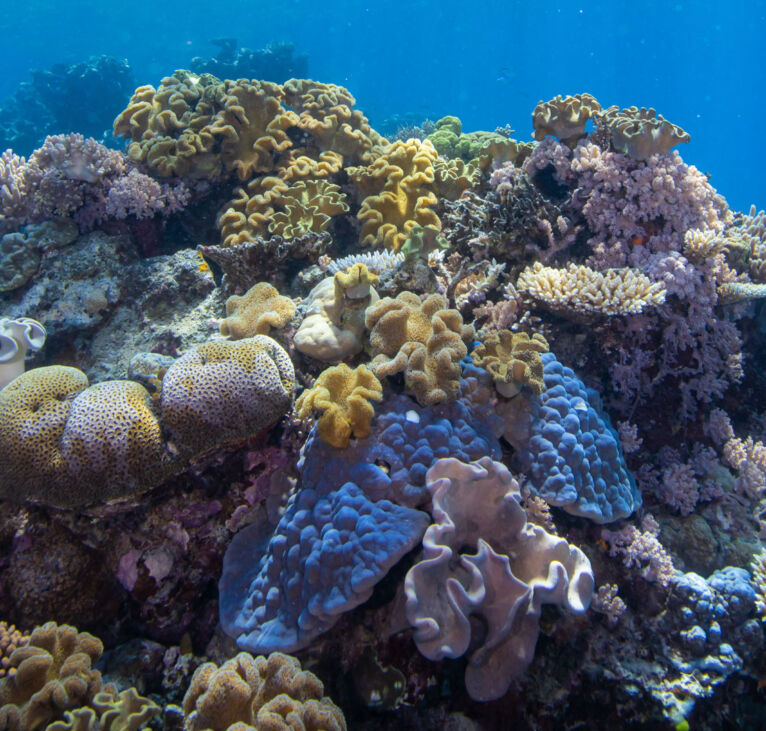 Canyons
Walls, swim-throughs and deep crevices packed full of fan corals make this a special dive. Only accessible during light winds and slight currents. Snorkellers will enjoy the abundant coral growth in the shallows.
Norman Reef, on the very outer edge of the Great Barrier Reef, is renowned for its clear water, beautiful and diverse corals and coral canyons. Its dive sites boast a huge range of fish, from reef sharks to anemone fish, cuttlefish and coral trout, as well as parrot and angel fish.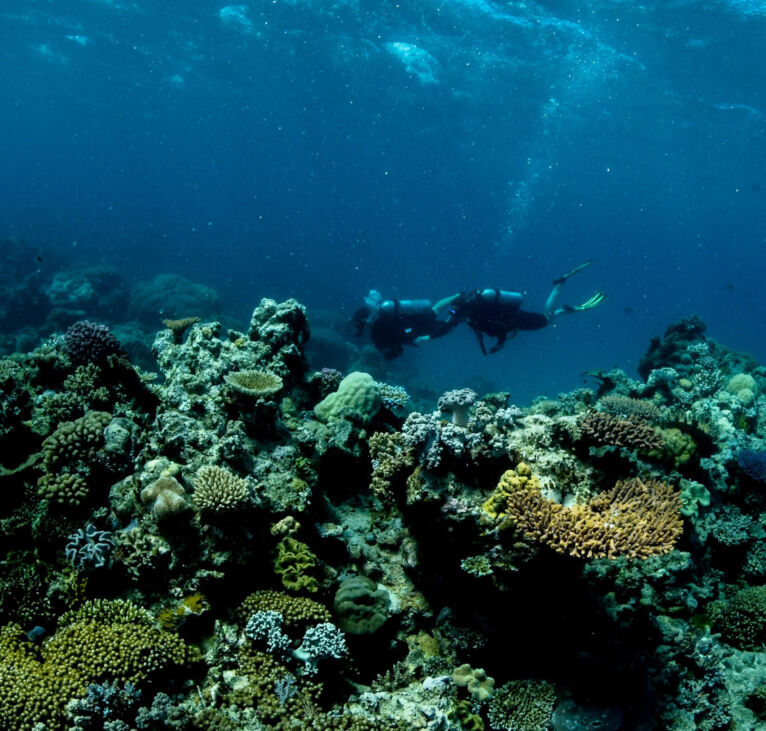 Caves
Numerous anemone fish, blue-spotted stingrays, cuttlefish, and cardinalfish can be found in this area. More experienced divers can use the two deep walls on either side of the bay. Devilfish in shades of blue and yellow are frequently spotted hiding beneath coral ledges along the walls.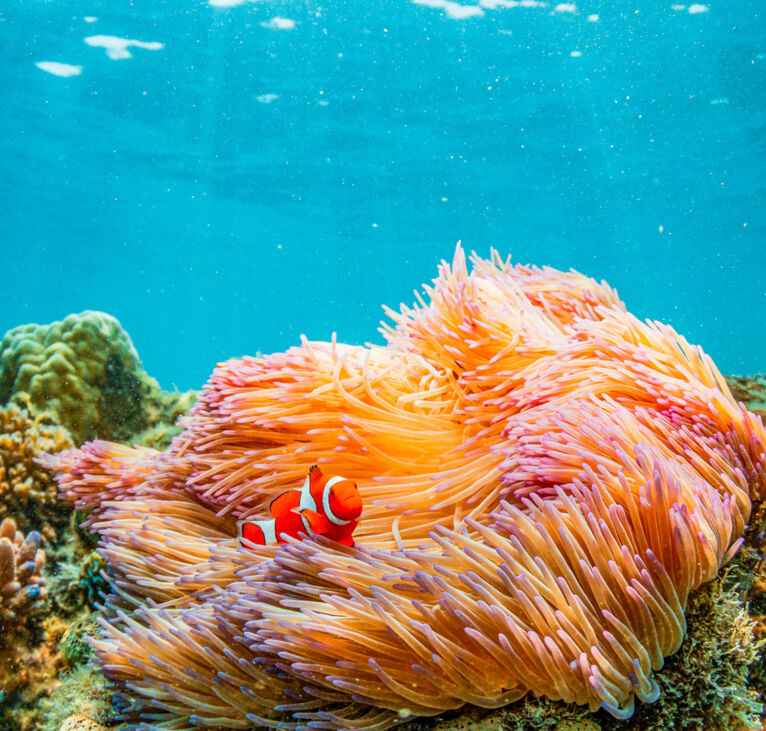 Plate Top
The Plate Top is a huge coral mountain range that lies off the main reef. Among the many types of reef fish that live there are anthias, yellowtail barracudas, anemone fish, gobies, sweet lips, trevally, and coral trout. Large schools of fish, turtles, and reef sharks seek refuge on the ends from tidal currents and keep an eye out for Nemo the clownfish, who frequently hangs out right underneath the boat.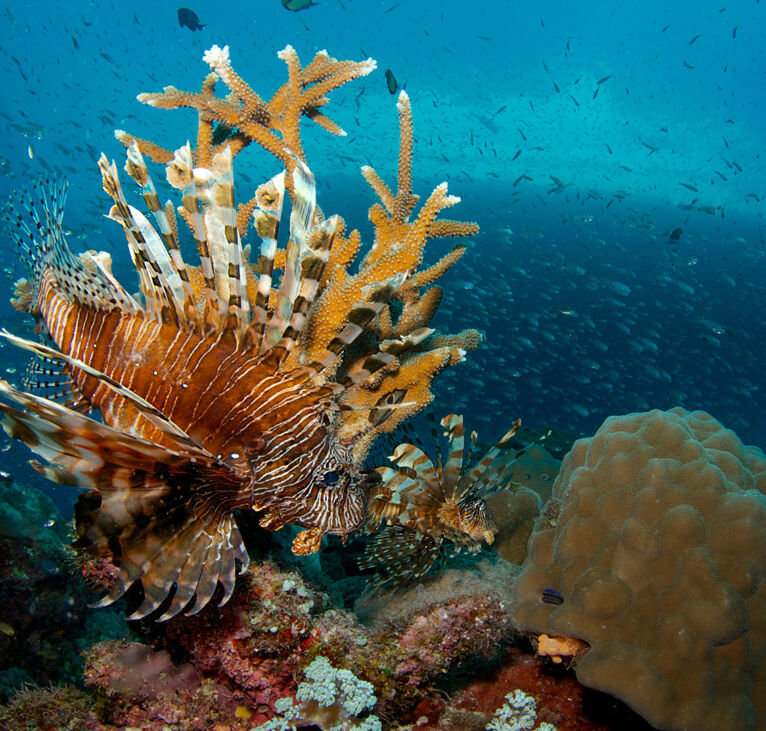 Playground
The area contains a number of tiny valleys and a handful of stunning coral bommies that are located directly beneath the ship on the sandy floor. Lionfish Bommie, which is located below the mooring line, is populated by glass shrimp, lionfish, and, if you look closely enough, two white-banded cleaner shrimp. The deeper, pipefish-filled Split Bommie is also frequently home to leafy scorpionfish.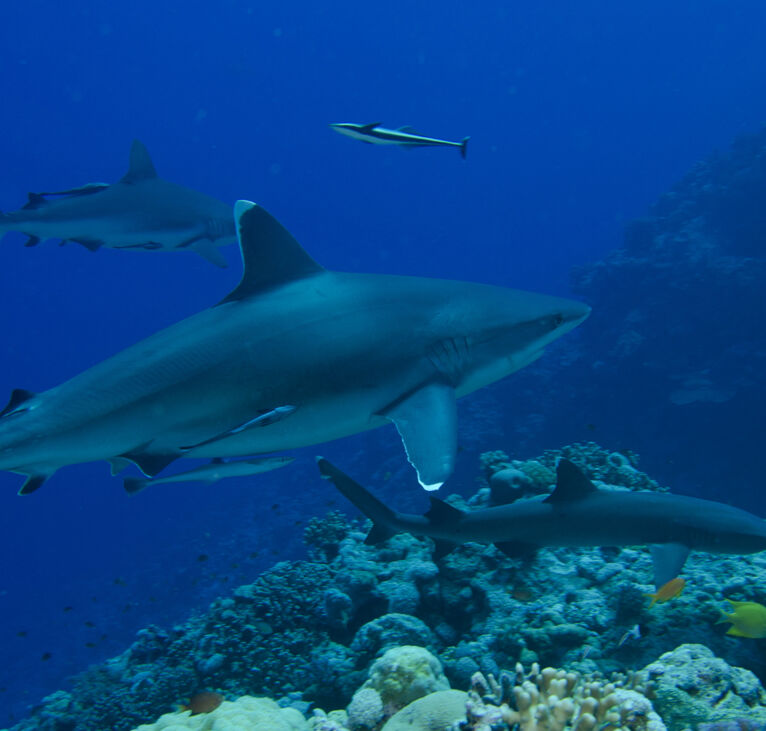 Shark Mountain
This dive site, which is a sizable mountain range located off the main reef, sits adjacent to Playground. There are a lot of grey reef sharks to be spotted here, as the name indicates. In case you're fortunate, you might also run into a sizable school of bumphead parrotfish. On the inner valley, small reef octopuses as well as an amazing variety of healthy corals and feather stars have been spotted.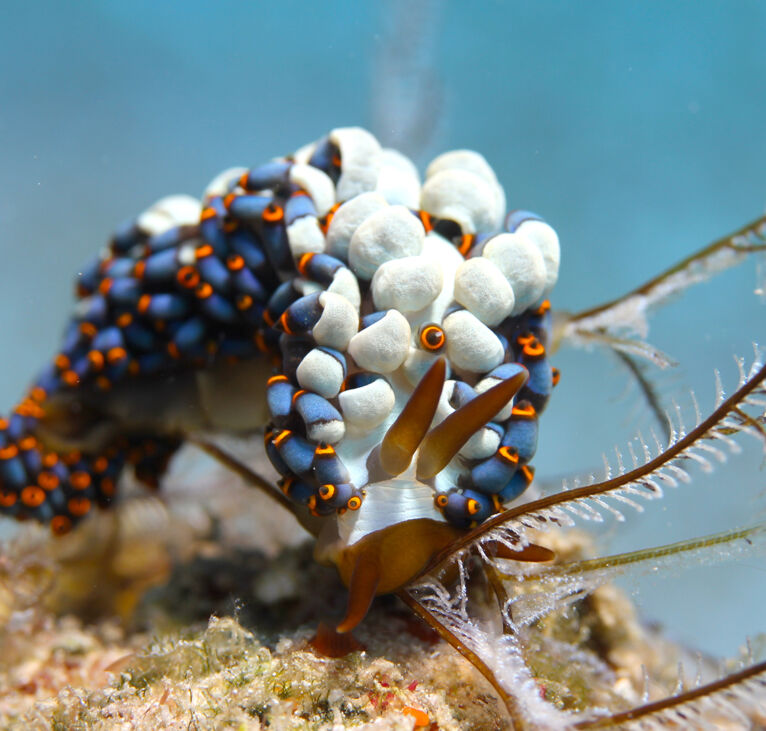 Troppos
An abundance of pipefish and nudibranchs flourish here. A deeper region can be reached by following the reef wall around the northern border for more experienced divers. Both snorkelers and beginner divers can explore the shallow mooring bay with ease.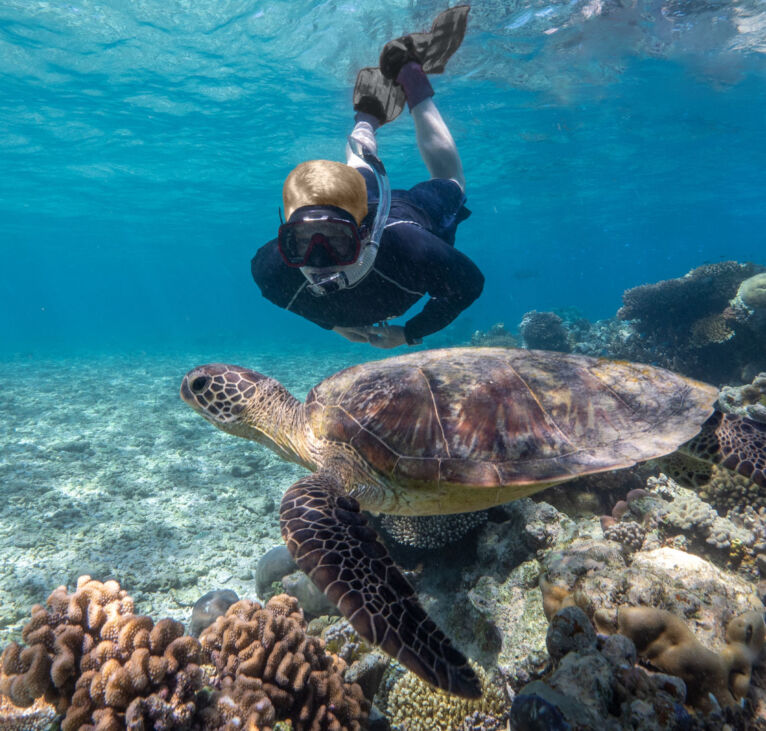 Turtle Bay
As the name implies, this is the green sea turtle's favourite feeding ground. Species up to 1.5m have been spotted here! You'll also find anemone shrimp, hairy spider crabs, blennies and many more. A beautiful flat bottom sandy bay with coral surrounds the vessel.
Located between Norman Reef and Hasting Reefs, Saxon Reef is home to some of the most vibrant marine species in the area. Covering an area of approximately 1.9 square kilometers, it is one of the less crowded diving spots in the region, providing an opportunity to explore the underwater world without distractions. It is an ideal location for scuba divers and snorkelers who wish to experience the full range of wonders that the Great Barrier Reef has to offer.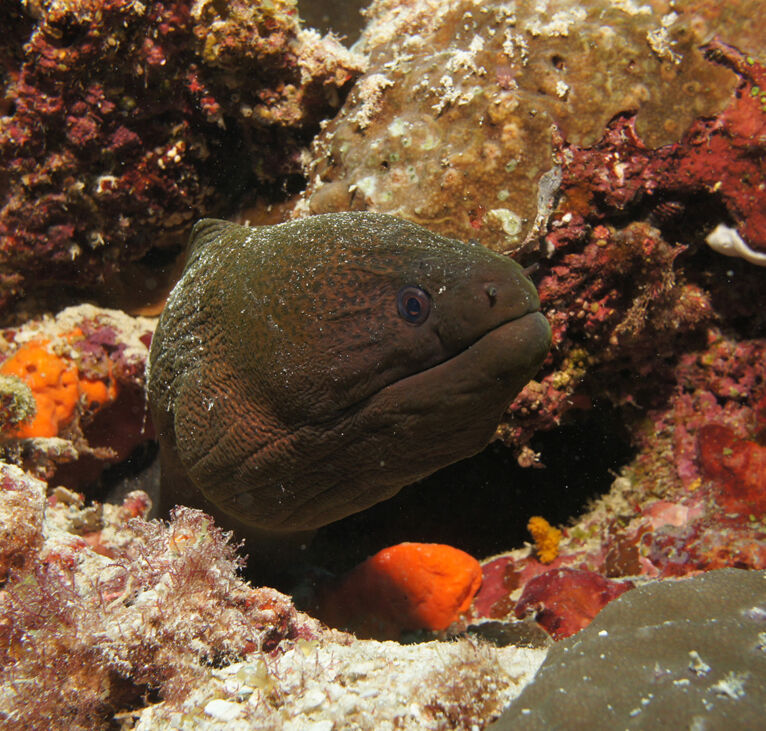 Twin Peaks
As the name suggests this dive site circles two bommies with a narrow swim-through and you'll see a large tree trunk wedged between the peaks. Moray eels are often seen in holes around the mooring blocks. Pygmy seahorses can be a rare find among the seagrass on the edge of the coral, and there are often schools of wild band fusiliers, humbug damsels and lots of different nudibranchs.